June 28, 2015
Healthcare inspections for nursing homes to be tougher under new OSHA rules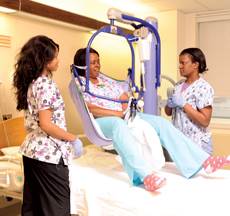 Nursing homes must make sure there are an adequate number of lifts to prevent injury.
Nursing homes will face more scrutiny based on a new key hazard list from the Occupational Safety and Health Administration.
The new hazards, specified in an OSHA memorandum, include musculoskeletal disorders related to resident handling, workplace violence, bloodborne pathogens, tuberculosis and slips, trips and falls. The hazards were addressed in OSHA's recent National Emphasis Program – Nursing and Residential Care Facilities, which involved collecting specific injury and illness data from 80,000 healthcare facilities.
"The goal of this policy is to significantly reduce overexposures to these hazards through a combination of enforcement, compliance assistance and outreach," the OSHA memo reads.
Nursing homes must make sure there are an adequate number of lifts, assistive devices and accessories for each resident requiring a lift, and enough charged batteries to power the assistive devices needed during a shift to avoid unnecessary manual handling, OHSA said.
An estimated half of all injuries to nursing home workers involve preventable musculoskeletal disorders like tendonitis, muscle strains and lower back injuries that are often caused by movements used to lift, reposition and transfer residents.
Nurses and nursing assistants made up nearly 60% of all identified injuries recorded by OSHA between 2012 and 2012, according to a Centers for Disease Control and Prevention report released in April. Among the most costly of these injuries were musculoskeletal disorders.
The American Nurses Association Executive Director Debbie Dawson Hatmaker commended OSHA for recognizing the injury risks faced by healthcare workers.
"Manual patient handling is unsafe for patients and often results in painful, career-ending healthcare worker injuries," Hatmaker wrote in a statement. "While OSHA's action is a step in the right direction, ANA believes a federal ergonomic standard is necessary to protect healthcare workers and is working with Congress to introduce legislation that would establish such a standard."
OSHA Assistant Secretary of Labor David Michaels, Ph.D., stressed the importance of creating safe working environments in hospitals and nursing homes in a statement.
"The most recent statistics tell us that almost half of all reported injuries in the healthcare industry were attributed to overexertion and related tasks. Nurses and nursing assistants each accounted for a substantial share of this total," Michaels said. "There are feasible solutions for preventing these hazards and now is the time for employers to implement them."