February 01, 2014
Health technology devices reach new level at CES show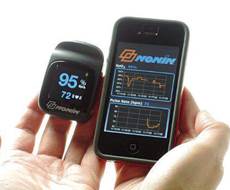 Nonin Medical's pulse oximeter is designed for individuals who want to monitor their pulse rate.
Several new health devices debuted at the 2014 International Consumer Electronics Show in Las Vegas, including some that may help long-term care providers.
iHealth showed off a wearable, ambulatory blood pressure monitor that can connect to a smartphone through Bluetooth or a PC with a USB cable. The monitor can be set to get blood pressure readings at regular intervals, which may help physicians and nurses determine the causes of hypertension.
Qardio, a health technology company, also launched its blood pressure monitor, QardioArm, at CES. It connects through an app on a smartphone or tablet and then uploads to a cloud service, where information can be shared with providers.
iHealth also introduced a wearable ECG that can transfer data. In addition, it displayed a wearable pulse oximeter.
Nonin Medical demonstrated its NoninConnect pulse oximeter. It uses Bluetooth® Smart (low-energy) wireless technology and a proprietary algorithm that tells users if their finger is placed properly in the device.
LG Electronics introduced its Lifeband Touch, a watch that can measure activity, and Basis Science showcased its Advanced Sleep Analysis, which offers personalized sleep feedback.
Withings also focused on sleep, debuting its Withings Aura. The product has a sleep sensor that goes under the mattress, and a bedside device with LED light dimming and sound control, as well as options related to jet lag or relaxation. It can reveal data related to individual sleep patterns and help control the sleep environment, without the user wearing a device.
Epson America unveiled its Pulsense™ line of watches and wristbands for fitness, health and wellness monitoring at CEO. Pulsense is a bio-sensing wearable device that can store heart rate, calorie burn and other information. It detects continuous heart rate directly from the wrist, and the sensor measures the amount of light reflected from red blood cells. It "records a single heartbeat when the amount of light reflected changes due to a drop in red blood cell count as the blood vessel contracts," the company explained.