April 01, 2013
'Happy days' here again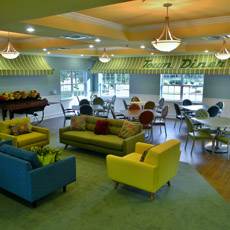 'Happy days' here again
The new memory care unit at the Renaissance Marquis is called The Harbor, but "Pleasantville" might have been as fitting a name. Just as the film Pleasantville took its main characters from the present day to the 1950s, The Harbor transports residents to the age of Sputnik and hula hoops.
The Harbor was a long time in the making, says Barry Ray, a partner at the facility in Rome, GA. About three years ago, he and his colleagues began an intensive research process. They read the latest academic literature and visited about 20 regional facilities.
They kept hearing how transformative it could be to take memory care residents back to earlier periods of their lives, Ray says. Based on this research, the project team decided to design and decorate The Harbor in the style of the 1950s, a happy decade for many members of the Greatest Generation.
With the $2 million, 24-bed project completed in September, residents are now able to enter a bygone world, from common areas featuring mid-century furniture to 1950s-style dinettes. Decorative touches include a manual typewriter and colorful rotary telephones.
The design not only takes residents back to a particular time, but to a particular place. Renaissance Marquis Executive Director Renita Chambers explains how photos and pencil sketches of '50s-era local landmarks, historical sites and schools remind residents what the community was like.
"We could have a 30-minute conversation at each drawing," Chambers says. "Residents say 'I went to school here,' or 'I remember this being downtown.' They're younger and happier in their minds."
To create a sensory experience, the unit features fence pickets and other objects for residents to touch affixed to the walls. However, the design also deflects attention from certain things. A mural artist painted certain doors to blend in with the wall. This way, residents who should not be leaving the area are not drawn to walk through them.
The staff could use a little more storage space for their needs, Chambers says, but otherwise they wouldn't change a thing. Ray concurs. He says there's already a 40-bed prototype in the works utilizing the concepts behind The Harbor.
Project manager Andrew Sutherland, of Empire Corporation of Tennessee, praises Chambers and Ray for bringing the whole project team on board to create the envisioned space down to the smallest details.
For example, research indicated memory care residents' restroom usage improves if the toilet seat color contrasts with the commode. When the team couldn't find any seat covers in the right shade at the needed price point, Sutherland came up with a novel solution.
"My stepfather builds custom hot rods, so we sanded the seats down and painted them in the paint booth," Sutherland says.
This kind of commitment paid off. Chambers tells of one woman who was depressed and not ambulatory. After moving in, her mood and movement improved. For her, the residence is pleasant indeed.