February 11, 2008
Guideline urges falls-risk screening for dementia patients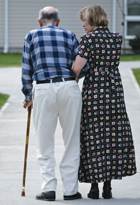 House passes elder abuse legislation
A new guideline issued by the American Academy of Neurology advises screening people with stroke, dementia, and walking and balance disorders, and others at high risk for falls.
The guideline asks doctors to use mobility tests and screening measures to gauge a person's risk of falling. If a person is found to be at risk, the guidelines suggest using preventative measures - such as exercise programs or removal of fall hazards from the home. The new guideline is published in the Feb. 5 issue of Neurology.
"There is a lack of awareness among doctors and patients in recognizing and preventing falls," says lead author Dr. David J. Thurman, of the National Center for Chronic Disease Prevention and Health Promotion at the Centers for Disease Control and Prevention.