March 04, 2016
Group's care policies may hurt, AHCA says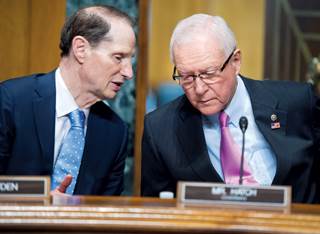 Sen. Orrin Hatch (R-UT), right, and Sen. Ron Wyden (D-OR) are on a Senate committee evaluating chronic care proposals that may change payments.
Chronic care proposals may have "unintended consequences," provider groups said in February.
The policies released by the Senate Finance Committee's Chronic Care Working Group zero in on Medicare beneficiaries with multiple chronic conditions, including diabetes and dementia.
The American Health Care Association urged the senators to bear in mind the consequences the policies could have on existing payment systems and access to care. AHCA also said linking to community-level quality measures could clash with residents' personal health wishes.
"This issue is of vital importance to AHCA/NCAL, since a majority of the individuals our members care for have multiple chronic medical conditions — and the number is growing rapidly," said Clifton Porter II, senior vice president of government relations for AHCA, in a statement.
The American Hospital Association also weighed in on the proposal, recommending healthcare providers have "maximum flexibility" in helping beneficiaries meet their recovery goals.