June 01, 2013
Greener pastures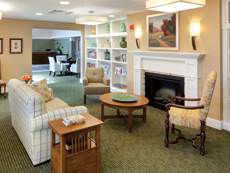 Greenfields of Geneva
Greenfields of Geneva has the stunning living areas and amenities you would expect from a new continuing care retirement community, including an auditorium, fitness center, two restaurants and two libraries.
But one of residents' pet features is one that is being debated among many senior living providers: the dog park. Assisted living and independent living residences are pet-friendly, although dogs must be under a certain weight and not an "aggressive breed."
"It's important to people," notes executive director Judi Donovan. "It can be a therapeutic measure." She says at least one resident has said the ability to bring her dog helped her make up her mind about moving to Greenfields.
For those not tied to Fido, there are plenty of other features at Greenfields, which sits on 14 acres of a 26-acre parcel approximately an hour west of Chicago.
All independent living apartments have a view and patio or balcony. The site is about a half mile to a train station and next door to Mill Creek Elementary School, which Donovan says helps reflect the planned community vision.
Friendship Senior Options is the parent company of Greenfields and another CCRC, Friendship Village of Schaumburg. While plans began more than seven years ago, it was once Greenfields joined up with Greystone Communities in 2008 that the project began gaining traction. But when the economy collapsed, there was "a unique set of challenges," explains Stephen Yenchek, the president and CEO of Friendship Senior Options.
"We found our way though in a way that is consistent with the aspirations of extending our mission," he says.
Greenfields' presales began in 2010 and the community opened its doors in January 2012. There are 147 apartment homes for independent living residents, 51 assisted living homes and 26 in memory support. The skilled nursing section, with 41 private rooms, opened in January 2013. The facility is in the process of obtaining Medicare certification.
The complementary colors and well-planned exterior "offer a real sense of intimacy," Donovan says.
That's deliberate. "The idea is for people to be able to walk from room to room as if they are in a house," says Cornelia Hodgson ("Cee Cee") of the C.C. Hodgson Architectural Group. As people walk in the front entrance, the design encapsulates a sense of "this is a place where I could be," she notes.
With common areas such as the fitness center overlooking the golf course, there's a sense of synergy and comfort in a design that reflects the younger senior living resident: Greenfields' 114 residents currently average 78 years of age. That means there's always an activity, Donovan says, reflecting that "every day I look at the calendar and think, 'I wish I had time to do that.'"
"One resident said being here has been the best year of her life," she adds.
While it's been a journey, Greenfields is on the right track, Yenchek says, noting, "It's just turned out to be a spectacular group of residents."
Lessons Learned
Consider separate entrances to differentiate areas on a CCRC campus.
When adding amenities, listen to residents in order to focus on what is important.
Before building, evaluate risk areas that have to be overcome.