August 13, 2008
Golden Living names Dr. Neil Kurtz second CEO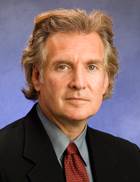 Golden Living names Dr. Neil Kurtz second CEO

The nation's second largest nursing-home chain has turned to a physician with deep experience in pharmaceutical research and delivery to become its new chief executive. Neil Kurtz, M.D., will become Golden Living's president and CEO on Aug. 29, the company announced Tuesday.

Most recently the president and CEO of TorreyPines Therapeutics Inc., a biopharmaceutical company, Kurtz previously was the founder of a contract research organization and has served in senior positions with Boots Pharmaceuticals, Bayer Corporation, Bristol Myers Squibb and Merck.

He replaces Randy Churchey, who led Golden Living for about 16 months, starting shortly after Fillmore Capital Partners bought the Beverly Enterprises chain and renamed it. A three-person office of the president-comprising top executives Larry Deans, Cindy Susienka and Richard Skelly-has led Golden since July 23, 2007, according to a company spokesman.

"Dr. Kurtz's career has been focused on finding new and better ways to help people through medicine. His passion for innovation and commitment to better healthcare is a perfect fit with our company's focus on quality and service," said Ronald E. Silva, president and CEO of Fillmore Capital Partners and owner of Golden Living.

Golden Living included a nation-high 329 facilities and second-most 33,757 beds as of Jan. 1, according to the American Health Care Association.