March 01, 2013
Gold-medal intern wins fans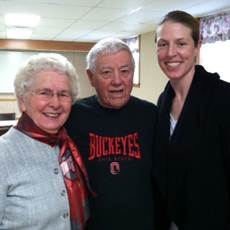 Gold-medal intern wins fans
Fairhaven Manor's Amy Kotterman wasn't sure her incoming graduate student intern was the Katie Smith until receiving an unusual voicemail. Smith called to say she would miss a day of her upcoming rotation to attend a USA Basketball board meeting.
That's when Kotterman knew the nursing home in Upper Sandusky, OH, would soon welcome a three-time Olympic gold medalist and current WNBA star. Smith, 38, plays for the Seattle Storm, but is now at the Ohio State University training for her next pursuit.
She is focused on nutrition, and one resident simply could not stop smiling as she went through a diet history with Smith, says Kotterman, who is corporate dietitian for United Church Homes and capital campaign director at Fairhaven Community.
Smith is down-to-earth and generous, Kotterman says. She's donated signed items for a fundraiser, spoken at a lunch-and-learn, freely given autographs and let people handle her medals. Even Logan the therapy dog got to wear them.
Smith also learned a lot during her three-week stint, underscoring the value of Fairhaven's internship program.
"Having the chance to intern at Fairhaven was eye-opening," she says, praising the campus, resources and especially, the people. The internship is over, but Fairhaven still considers Smith one of theirs.