October 01, 2008
Get on the bus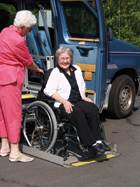 Senior services agencies reach critical moment in government shutdown, survey finds
Group outings are integral to eldercare residents' quality of life, whether it's for a check-up, shopping trip or recreational activity. And integral to each outing's success is the vehicle that brings residents to and from outings. 

It's easy to take transportation for granted. Besides the obvious complications such as the potential for mechanical and availability problems, there are a host of other considerations that go into transporting passengers, from loading and seating to comfort, as well as driving and navigation. After all, vehicles are the lifeblood of any excursion, no matter how small.
Expense is one of those considerations. Close examination of vehicle usage can yield surprising findings as to just how many trips are made, and how much they cost.
For instance, Baltimore-based Erickson Retirement Communities recently generated data on the fleets for some of their facilities. Among the findings: The fleet for Tinton Falls, NJ-based Seabrook traveled more than 17,500 miles in one month, spending approximately $8,600 on fuel; at Brooksby Village in Peabody, MA, they traveled 15,000 miles at a cost of $5,200; and at Linden Ponds in Hingham, MA, they traveled 11,000 miles at a cost of $3,500. Over the course of a year, Silver Spring, MD-based Riderwood estimates making more than 10,000 trips, traveling over 170,000 miles.
While it's true that high fuel prices have made transportation a major expense, Erickson has turned a negative situation into a positive one, promoting its transportation system as a benefit for its residents. 
Riderwood, for example, is telling residents how they can take advantage of "inclusive" transportation services for routine and special trips. Nearly all Erickson facilities expect ridership to increase going forward.
"This year, the community projects an increase in the number of riders; however, rising gas prices may further increase those projections that were initially made at the beginning of the year," said Christine Hansen, Linden Ponds' director of marketing.
Seabrook resident Gene Phillips appreciates these services.
"I certainly feel that fuel costs have gotten to a point where so many people, including seniors, are significantly impacted," he said. "However, the transportation here is a service that helps those who are on a fixed income. More residents here are using the shuttles, which helps them save money and helps them during a time when the economy affects so many people in different ways, including rising food costs."
Although the price of gas appears to be stabilizing and, in some places, receding, economists generally agree that per-gallon costs are likely to stay high and continue on an upward trend in the long term. As a result, management at Fox Run in Novi, MI, expects its number of passengers to grow correspondingly.
"In the past month, we have seen a marked increase in our residents taking full advantage of our services," said Judy Donovan, Fox Run's regional director of general services. "We expect as gas prices continue to rise that we'll see even more participation from our residents."
Planning a recreational outing to the theater, a baseball game or museum takes a lot of methodical planning, and decisions regarding transportation are—to use travel vernacular—at the hub. Determining the most suitable vehicle depends on a number of factors, including destination, distance, traffic and number of passengers. Depending on a facility's size and the types of vehicles in its fleet, there are a number of options to weigh, including whether to charter a vehicle from a leasing company.
Cheryl Krupa, activities director for Covenant Village in Northbrook, IL, about 20 miles north of Chicago, is an experienced pro at trip planning, putting together regular excursions for residents around the region. Although Covenant has its own small bus, the organization also outsources for larger buses when the need arises, she said.
Logistically, field trips to downtown Chicago are the most challenging due to traffic congestion, narrow streets that require tricky maneuvering, cramped spaces and sometimes-difficult rendezvous points, she said. To ease the process, Krupa said she works closely with group sales coordinators at popular attractions, such as the Chicago Theater, Auditorium Theater and Orchestra Hall.
"These people are indispensable," she said. "They help us know what to expect so that we can plan accordingly. They also get us discounts and special assistance, if needed."
Assigning specific usage for vehicles may not be a necessity, but there are some circumstances that favor either a bus or a van. Bill Kauzlarich, regional sales manager for Kankakee, IL-based Midwest Transit Equipment, says smaller vehicles are most appropriate for running residents to appointments and for errands, while full-sized buses are best for longer trips. He bases his recommendations on what customers say they are looking for.
"We want a vehicle that meets about 90% of their needs," he said. "If a bus is intended for travel, we can put in more comfortable seats and snack trays. We also have installed refreshment centers on the bus for dining and beverage service. But it's totally up to them."
Accessibility has been a major issue, Kauzlarich said, especially in vans.
"The 15-passenger van is challenging to get in and out of, and with lower ceilings, it is harder to move around in," he said, "so they're not as popular anymore. It is much easier to get on and off a bus."
Driver preparation is also essential, whether it's familiarity with the vehicle, the route or the destination, Kauzlarich said.
"It's extremely important that the staff member be comfortable driving the vehicle," he said. "And they should know ahead of time what types of challenges they might face on the trip."
When it comes to purchasing new vehicles for a facility's fleet, more buyers are inquiring about environmentally friendly models, noted Bill Flynn, vice president of South Grafton, MA-based Atlantic Turtle Top. Among the choices being showcased today are electric hybrids (gasoline-battery), duel-fuel vehicles (gasoline-propane) and dedicated CNG (compressed natural gas). 
"These vehicles are the future, though they're not for everyone yet," he said. "The challenge with alternative fuels is with filling stations. We have only 11 CNG pumping systems in the entire state of Massachusetts. We've been building these vehicles for years, but the filling stations haven't caught up."
When it comes to field trips, sometimes the simplest are best, Kauzlarich said.
"One group I know loves to go to small-town parades," he said. "Usually, they can park the bus along the parade route and watch the people go by without having to even get off the bus."
'Field trip' can take on a literal meaning as well, Kauzlarich said.
"There are people who like to go back to their communities to see the house where they grew up and see how the town has changed," he said. "And some just like to see how high the corn has grown."