June 01, 2013
Forecast error costs SNFs $320 million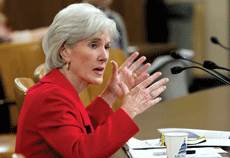 HHS Secretary Kathleen Sebelius
The nation's skilled nursing facilities can expect an aggregate $500 million boost in Medicare payments next year — $320 million less than the Centers for Medicare & Medicaid Services proposed.
CMS recommended a 2.3% market basket increase, but a "forecast error correction" and other mandated adjustments will knock the total down to a net 1.4% increase, officials said. The rate increases to the SNF prospective payment system would kick in Oct. 1, 2013, the start of the 2014 fiscal year.
While noting that "Skilled nursing has sustained too many cuts," American Health Care Association President and CEO Mark Parkinson said his association "appreciates" the 1.4% net increase and would further study the proposal's impact.
CMS announced the proposed rate increase May 1. It was published in the Federal Register on May 6, and has a public comment period running through July 1.