February 06, 2008
Flush with victories, providers gearing up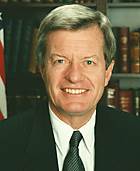 Senate Finance Committee Chairman Max Baucus (D-MT)
The year started off strong for nursing homes –– at least as far as public policy was concerned.

Prior to its winter recess, Congress passed two major pieces of legislation that kept important provisions regarding nursing homes intact: a 3.3% fiscal year 2007 marketbasket update and a Medicare exceptions process for therapy caps.
Another gain was the elimination of survey revisit fees for nursing facilities, which took effect in October. 
Not all turned out rosy for long-term care, however. Facilities lost some ground on the "75% Rule," a regulation for outpatient therapy providers, which was scaled back to 60%. 
As a sign of the current policy making climate, no sooner did the president sign the legislation than legislators began tackling some issues that had been granted only temporary closure.
"We were obviously very pleased that the Medicare package did not include any cuts to Medicare funding. However, we do know that Congress is set to look at Medicare funding once again," said American Health Care Association spokeswoman Susan Feeney.
Congress still has to resolve the exceptions process for Medicare Part B therapy caps, as new legislation extended the process only until June 30.