June 05, 2015
Flu keeps the heat on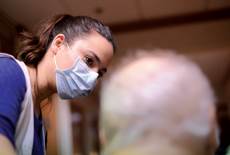 Flu keeps the heat on
Vaccinations and the return of previously extinguished diseases such as measles were all over the news media this past winter, generating discussion about how vulnerable the population is becoming to new and mutating pathogen strains.
In long-term care facilities, the population is especially at risk, which should prompt administrators to take a hard look at current practices and procedures to see where improvements can be made, infection control specialists say.
If there is one word that captures attention in the disease prevention field, it is "proactive." Even if a tough flu season like 2014-15 did not take a serious toll within skilled nursing facilities and senior housing communities, the potential for more virulent disease comebacks exists and providers should be taking steps to keep ahead of them, says J. Hudson Garrett, Ph.D., vice president of clinical affairs for PDI Healthcare.
"Emergent and highly infectious pathogens such as measles are always a 'wake up' call to healthcare providers and a reminder of the importance of vaccination and basic infection prevention and control practices," he says. "Facilities should evaluate the use of a mandatory vaccination program to ensure compliance with the recommended vaccinations such as influenza, measles, mumps and rubella, Hepatitis B virus, tetanus, diphtheria and pertussis.
"It is important to partner with legal and human resources colleagues during the development and implementation of such policies and procedures."
To be sure, the recent flu season was severe, especially for seniors 65 and older. The hospitalization rate this flu season for people in that group was about 217 per 100,000, a huge jump from about 85 per 100,000 last season, the Centers for Disease Control and Prevention reported.
Even as of April, the U.S. was "not out of the woods yet," observed Mary Madison, RN, clinical consultant of long-term care and senior care assisted living for Briggs Healthcare. "The CDC reported that nearly half of the U.S. is still in the grips of the flu even though the 'season' is waning."
The H3N2 strain of influenza A mutated enough so that even vaccinated adults were not completely protected, she says, and influenza B, which is typical in early spring, was making the rounds. Fortunately, the number of deaths due to influenza and pneumonia decreased to 6.9% this year — just below the epidemic threshold of 7.1%.
Stunning success
While the most recent vaccine was not as effective as past years, the CDC estimated in March that the flu vaccine has prevented nearly 90% of deaths in people 65 and older over a nine-year period.
"That provides some comfort in this very bad flu year," Madison says. "The numbers would have been much worse without vaccination."
Martie Moore, RN, MAOM, CPHQ, chief nursing officer for Medline, says media coverage of Ebola, measles and other viral illnesses obscured the more pressing issue of flu vaccination.
"In the middle of all the conversation about viral illness, we lost the focus on what is critically important — vaccinations for influenza to prevent the spread of the virus," she says. "Because we call it the 'flu' we also have a bias within society that it is not serious." While there are several infection control best practices that should be implemented, the top priority for the 2015-16 flu season is to educate staff, residents and their families about the importance of being vaccinated, Garrett says.
Only 3 in 5 vaccinate
Facts from the Centers for Disease Control and Prevention about the benefits of staff vaccination should motivate everyone in the facility to get a shot ahead of flu season, but only 60% actually get one, says Lauren Angrick, marketing manager for Novaerus.
"Vaccination of staff members has been associated with reduced risk of influenza, leading to lower death rates for nursing home residents as well as less work absenteeism, antibiotic use, and medical visits," she says. "Although annual vaccination is recommended for all facility staff members and is a high priority for reducing morbidity associated with influenza in healthcare settings, staff vaccination levels are not what they should be.
"Even so, all staff members should use best practices and protocols for hand washing, surface cleaning and isolation of residents with infections — including wearing surgical masks." The "simplest and most effective way" to prevent transmission of the flu, as well as many other bacteria and viruses, is handwashing, adds Barbara Richter, Healthcare Segment Manager, P&G Professional.
"Facility managers should ensure that handwashing stations in restrooms and other areas have sinks with warm running water, soap, and a means to dry hands. Signage at handwashing stations can be used to remind people to wash hands and how to do so properly," she says.
Still, it's important to remember that, despite an increase in healthcare personnel vaccinations in recent years, long-term care workers still have the lowest inoculation rates, says Rosie D. Lyles, M.D., head of clinical affairs for Clorox Healthcare.
"Immunizations are often a source of misunderstanding among patients, families and staff regarding who should receive them, the risks involved and the impact on morbidity and mortality," she says. "The barriers to immunization are multiplied when the facilities' own staff are resistant to participate in annual immunization programs, thereby contributing to the potential for a facility outbreak and reinforcing the residents' fears about vaccinations. That's why education on the importance of vaccination is essential in long-term care facilities."
While the influenza vaccine was imperfect in its effectiveness in 2014-2015, it has already been improved and should be much better in the upcoming season, according to William Schaffner, M.D., a professor of preventive medicine at Vanderbilt University School of Medicine. He is a past president of the National Foundation for Infectious Diseases. Receiving the flu vaccine should become a "patient safety issue," he urges. Administrators should "make it convenient to receive: You have to have someone there to administer the vaccine for the night shift."
Lyles and Shaffner both encourage making the vaccine free. Facilities also could offer vaccinations during mandatory trainings, departmental conferences or other meetings, using a mobile vaccination cart or working with visiting nurses associations or other community immunizers to provide vaccinations on-site, Lyles says.
Additionally, facilities could provide staff with a vaccination voucher for use at a drugstore or clinic or partner with a larger healthcare organization to provide vaccinations."
Anti-vax impact
The measles outbreak during the winter brought new attention to a trend that has been rising for several years — refusing vaccinations due to fear of complications like autism in children. Clinicians say these fears are overblown and are leading to the return of previously eradicated diseases such as measles. There is also concern about the return of other dreaded diseases like polio from unvaccinated carriers.
"My hope is that the anti-vaccination movement is not given much credence in the post-acute world," Madison says. "Folks have been badly misinformed on vaccinations in the infant and pediatric field — the word 'autism' is scary indeed. Although long-term care has no worries about autism, this should not allow us to rest on our laurels. We have seen what happens when our population doesn't vaccinate."
If there was a silver lining to the outbreak, it's that it made "pro-vaccine people more determined," Shaffner says.
"You are not only a hazard to yourself but the people around you," he says of those infected.
Garrett says a wealth of data from the CDC show vaccines are safe and effective.
"Historically, this movement was more isolated to residents and the general public, although over the last few years, there has been a decrease in the vaccination compliance rate with healthcare providers across the board," he says.
"Taking care of residents is a very risky business, and requires providers to use all available tools and measures to reduce the risk for infection transmission. This includes vaccinations for both the resident and staff."
Any workers who decline vaccination should be required to wear a surgical mask when coming in contact with any of a facility's residents, Madison adds.
"This would include administrators, nurse managers and even surveyors," she says. "The lives of our residents as well as co-workers are on the line. Making a choice to refuse a vaccination should not place those you care for in jeopardy."
Long-term care generally involves a "confined population," Shaffner says, which means staff are the ones who often act as carriers for the virus into a facility. Garrett says caregivers "must be instructed to stay home if they suspect that they have the virus or other transmissible infection."
"This requires careful coordination with the facility's human resources department and support from the administrator or executive team," he says.
When avoiding vaccinations, employees often say "If I feel ill, I'll stay home," Shaffner says.
"There are two fallacies there. One, we should all be truthful with ourselves and that we come into work when we feel crummy. Second, even if you did that, you are transmitting the flu the day before you get sick," he says.
Providers also should not diminish the importance of proper cleaning protocols, reminds Richter. Use this summer to evaluate how effective their cleaning program was over the past flu season, she says. Determine "where are opportunities for improvement in the year to come — whether it is in product performance, processes, or employee training and compliance."
Environmental cleaning and disinfecting of surfaces should be part of that evaluation.
"Particular attention should be paid to disinfecting surfaces that have the highest risk of contamination — high-touch surfaces, such as railings, handles, buttons and door knobs," Richter says, adding providers should use EPA-registered disinfectants and effective multipurpose products.
Planning ahead
In addition to preparing for effective cleaning, Moore notes some facilities have 100% vaccination rates. That perfect record is achieved when organizations develop comprehensive educational plans that are conducted throughout the year. That way, when it's time to vaccinate, questions have been asked and answered, she says.
"Team members feel that they are informed and make the decision to vaccinate based on facts and science through informed understanding," Moore says.
Organizations also must work closely with their state public health departments to identify when influenza is starting to emerge within their communities, she says — that way they can quickly respond to the viral presence and prevent transmission.
The most effective proactive plan facilities can follow, Moore says, is to not treat the flu as an event or episode that will fade, understanding that infection control and disease prevention are a continuous process.
"The organizations that engage in the education, research and understanding of how influenza and other infectious diseases are transmitted as part of their ongoing leadership actions will find influenza as a non-event," she says. "Facilities should also plan ahead for vaccinations so team members are aware and can plan it into their schedules."
Engaging team members through fun activities, such as "drive-by shots," are also ways facilities can engage their teams, Moore says.
"Employees can drive up to the designated spot, roll their window down, complete the consent form, receive their vaccination and continue on their way," she says.
Suppliers should be a source of support in fighting influenza, Richter adds.
"Even if employees did an excellent job following best practices for cleaning and disinfecting this past year, it's imperative that training refreshers be conducted throughout the year and particularly before the start of cold and flu season," she reminds. "All new employees should also go through a complete training prior to the start of flu season."