December 01, 2014
First COPD guide promotes shots, better management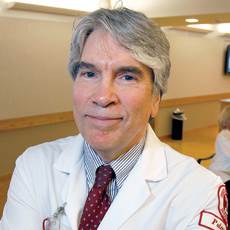 Gerard J. Criner, M.D.
Patients with COPD should get pneumococcal and flu vaccines to manage their disease and ward off complications, according to new guidelines issued by two of North America's largest thoracic societies.
Though the pneumococcal vaccine may not prevent acute exacerbations, first-of-their-kind recommendations from The American College of Chest Physicians and the Canadian Thoracic Society note that patients with the bacteria in their lower airway have a "significantly increased risk" of exacerbations.
COPD cost the United States. an estimated $49.9 billion in healthcare costs in 2010, much of that related to exacerbations that caused hospital readmissions or death. Pneumococcal-related exacerbations lead to longer hospital stays and greater lung function impairment among COPD patients, the researchers said. The bacteria also can lead to meningitis, blood poisoning and other infections.
The researchers reviewed a decade's worth of randomized, controlled trials to identify the most effective non-pharmacologic, inhaled and oral therapies. The resulting guidelines were published this fall in an excerpt of the journal CHEST.
Also among the 33 recommendations: offering smoking cessation programs, creating written action plans, facilitating monthly visits with a specialist, and prescribing inhaled or oral treatments in new combinations.