May 11, 2012
Final rule reduces regulatory burden for long-term care facilities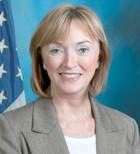 CMS Administrator and Secretary of the Medicare Trustees Marilyn Tavenner
A new rule eases the regulatory burden on providers serving Medicare and Medicaid beneficiaries and has the potential to save the healthcare system $100 million in the first year.
The Centers for Medicare & Medicaid Services finalized the Medicare Regulatory Reform rule on Thursday as part of an Obama Administration initiative to identify and eliminate duplicative, overlapping, outdated, and conflicting regulatory requirements for healthcare providers and suppliers, which includes long-term care facilities.
The rule calls for the elimination of outdated Medicaid qualification standards for physical and occupational therapists; replaces time-limited agreements with open-ended agreements for Medicaid-participating Intermediate Care Facilities that serve people with intellectual disabilities; updates e-prescribing technical requirements so Medicare Prescription Drug Plans meet current standards, and several other measures.
CMS Acting Administrator Marilyn Tavenner said the new regulations cuts burdensome red tape for providers.
"These final rules incorporate input from hospitals, other healthcare providers, accreditation organizations, patient advocates, professional organizations, members of Congress, and a host of others who are working to improve patient care," Tavenner said in a statement.
Click here to read the final rule in the Federal Register.