December 01, 2012
Few signs of a deal as fiscal cliff nears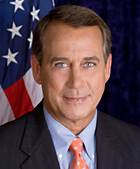 House Speaker John Boehner (R-OH)
Winning candidates had little time to enjoy November election victories, thanks to a looming $600 billion fiscal cliff. Republicans and Democrats quickly turned their attention to sequestration cuts that would trim Medicare payments across-the-board by 2%.
House of Representatives Speaker John Boehner (R-OH) called on President Barack Obama to lead efforts in avoiding the fiscal cliff's tax hikes and spending cuts that begin with the new year. But the GOP leader added he would not support tax rate increases on the wealthy.
Instead, Boehner pointed to getting rid of some corporate and personal tax loopholes and eliminating some deductions that would bring in new money to the treasury.
President Obama also signaled willingness to compromise with Republicans, declaring he was not "wedded to every detail" of his tax-and-spending approach.