June 15, 2012
Federal agencies free up funding for elder abuse response and prevention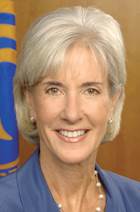 Health and Human Services Secretary Kathleen Sebelius
Congress and federal health officials announced separate avenues of funding for the prevention and response to cases of elder abuse Thursday.
At a White House World Elder Abuse Awareness Day event, Health and Human Services Secretary Kathleen Sebelius announced a $5.5 million funding opportunity for states and Native American communities interested in testing "approaches designed to prevent elder abuse, neglect, or exploitation and build knowledge of risk factors related to these events."
Additionally, the Senate Labor, Health and Human Services and Related Agencies Appropriations Subcommittee approved $8 million in federal funding to support Adult Protective Services, a program that enables caseworkers and first responders report, monitor and evaluate potential elder abuse cases. The Senate Judiciary Committee also approved elder abuse funding in February.
Click here for more information on HHS grants.