March 06, 2015
Feature: Next to godliness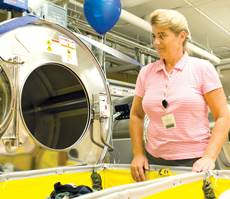 Landis Homes has moved away from a dumbwaiter system.
When it comes to laundry, there's no one-size-fits-all label at Presbyterian Senior Living.
Operations at the company's 29 communities are somewhat autonomous, giving on-site environmental service directors the ability to determine which services and supplies work best for them. The approach is dictated by both the facilities — some more than a century old — and by the 5,400 residents who live in them.
"We customize our laundry based on the demographics of our resident population and the physical constraints of a particular campus," explains Casey Jones, corporate director for environmental services and risk at Presbyterian.
For other providers, cost is a decision-making factor; increasingly, so is sustainability. But many chains and even small independents offering multiple levels of care at one facility are finding that aligning laundry services with residents' actual needs can pay dividends.
A mix of outsourcing, in-house laundering and sorting innovations or the addition of upscale, fee-for-service arrangements are all options in today's changing laundry landscape. Sometimes small changes can save money; other services might help a facility make money.
"All of our clients — non-acute, acute — the pressures around cost and declining revenue, they're driving all of them to look for solutions," says Jeff Cohen, executive vice president for strategic development at Clarus Linen Systems. "A lot of these homes used to do a lot of the laundering of their own linens … but we're seeing a significant trend toward outsourcing."
But even outsourcing has its variables, with linen preferences, chemical use and turnaround times up for negotiation. Laundry operations remain drastically different at various plants and in on-site laundries. Blaine Douglas, senior vice president of purchased services for MedAssets, says his consultants often find room for improvement in laundry rooms.
Examining labor and equipment can yield results, he says, and so can new technology.
"It has to be a multi-pronged approach," Douglas says.
As her family prepared to open the doors at Dove Estates Senior Living Community in Goddard, KS, last year, Marketing Director Jill Steiner wanted to use laundry to promote independence among her assisted living residents.
Each of 61 apartments includes an in-unit washer/dryer combination. If they need help switching loads or getting heavy bedding into the machines, nurses or housekeeping staff step in.
The facility is committed to aging-in-place. Steiner says some residents will eventually be unable to complete their laundry chores regularly, but Dove Estates won't charge more to complete the wash.
"Am I going to nickel and dime them? Probably not," she says.
Increasing demands
Bill Kimmel is president of RJ Kool Company, a UniMac distributor with hundreds of long-term care clients in Kansas, Missouri, Southern Illinois and Nebraska (including Tutera Senior Living & Health Care and Americare).
He says in-room units have become the standard in assisted and independent living facilities, especially those that are part of a CCRC. But Kimmel also says it's important to build facilities — or adapt them — with the understanding that an aging population will create increased laundry demands.
Dove Estates' main laundry room is typically used only for dining linens. If a planned skilled nursing home comes to fruition, Steiner says her administrator might consider expanding the laundry room — which currently has one commercial washer and two residential ones — or building a second one. For now, there are virtually no laundry costs beyond the initial outlay of $887 for each energy efficient combo. Steiner says she doesn't even remember considering whether it would be more cost-effective to do residents' laundry for them, and now she's glad.
"It saved such a big headache of having an extra staff just for laundry," she says.
In other facilities, Kimmel says, staff and utility costs may eventually require the shift of in-room laundry to a facility laundry. Buildings with a high concentration of dementia or Alzheimer's patients also have different needs than those with a generally young, healthy population, he adds.
If there is a shift, facilities need to adopt new procedures for treating, sanitizing and folding personal laundry and getting items back to the right owners. In those cases and those where facilities do a weekly linen cleaning for independent residents, Kimmel says carts and labels can speed up the process and make laundries more efficient.
Special measures
At Presbyterian Senior Living, several communities have adopted a system using colored cloth bags to sort laundry by floor or wing. Colors selected by staff at each site mean different things; blue might designate personal clothing; red could indicate the presence of biohazards. Others with more space in a shared laundry room use designated carts for easy sorting of soiled and clean laundry.
The community also provides a free labeling service in which iron-on name tags are added inside personal items for skilled nursing and personal care residents.
At two campuses in Western Pennsylvania and Maryland, staff decided it was more economical to outsource laundry services. They save an estimated five cents per load in utility, labor and equipment costs. Still, Jones says it can be hard to keep track of laundry that's coming and going daily, and sometimes misplaced belongings go unfound.
With the move toward outsourcing, Clarus has spent several months piloting a tiered program that would allow facilities to select service levels based on their resident populations.
"We're looking at bronze, gold and platinum packages, if you will," says Cohen.
The most complete, "hotel-like" service would be the logical choice for self-pay homes with residents who expect upscale amenities across the board. A basic service would be available to those with "affordable" units or beds reserved for Medicare patients. A third plan would fall somewhere in the middle.
"The administrators that I've talked to like the idea," he says.
The plans should launch this year, with some room to customize options such as turn-around time and chemicals. Indeed, chemical use should be on the minds of providers, says Barbara Richter, Healthcare Segment manager, P&G Professional.
"When it comes to laundry chemicals, more is not always better," she says. "Often, systems will dose more than is necessary to clean the garments. That can have a big impact on laundry costs." Richter advises asking the service technician to walk staff through dosing levels for each cycle and track the cost per dose.
Clarus also is looking at greener chemicals, seeking to accommodate facilities that want to be environmentally friendly. Cohen says they've partnered with a Cincinnati-based chemical company to pilot a product that works in 100-degree water, killing germs and putting out "a whiter, brighter product."
Working with professional chemical companies also might help facilities keep their residents healthy and their building smelling fresh. RJ Kool is the rare distributor that has its own chemical team. Kimmel says that allows his employees to escape the all-too-common pressure to use the cheapest cleaning agents possible.
"What we're seeing going forward is more about accountability and time management," Kimmel says.
For facilities with the capital to replace outdated equipment instead of outsourcing, today's UniMac washers and dryers, for example, offer UniLinc with timers, alerts and data tracking that can identify poor labor practices or the need for more (or fewer) machines.
Those could be important tools for communities like Landis Homes in Lititz, PA. Landis moved its laundry operations out of a confining basement location and got rid of its dumbwaiter delivery system 11 years ago. That gave workers more room to handle the daily load as the number of residents jumped from roughly 600 to 800 over the last two years.
Now, Ella Burkholder, director of laundry and housekeeping, is "hoping to use efficiency changes to reduce the labor needed on Sundays." Many of the housekeeping employees in this semirural location are Mennonite, and some can't work on Sunday. It's a community-specific scenario, but one that can be addressed by solutions designed with all healthcare operators in mind.
À la carte service
Some private facilities are fortunate enough to have residents who will pay for convenience and upscale laundry services. Landis Homes employees launder clothes or bulky items like quilts for independent living residents on a fee-for-service basis.
Steiner offered dry cleaning at her location in Kansas, only to find that too few residents wanted to use it. It turns out many residents born of the Great Depression would rather steam their Sunday best in their own bathrooms — or buy washable fabrics. The vendor that Dove Estates used has stopped arranging pick ups, at least until the facility's census increases.
At Presbyterian Senior Living's Kirkwood Village in Bethlehem, PA, it's a different story. There, retired steel executives 55-plus years old and their neighbors often take advantage of a dry cleaning service.
"It's a very high-end campus, a very high buy-in," Jones says.