December 10, 2008
FDA shoots down prospect of Medicare-covered gun for seniors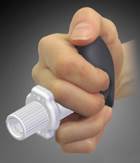 FDA shoots down prospect of Medicare-covered gun for seniors

A single-shot pistol designed for seniors and those with disabilities does not qualify as a medical device, the Food and Drug Administration said Monday. That ended speculation that Medicare might cover it.

The Palm Pistol, made by the company Constitution Arms, cannot be viewed as a reasonable and necessary medical device, according to a Medicare spokesman. Matthew M. Carmel, president of Constitution Arms, told McKnight's that the FDA initially registered Constitution Arms as a Medical Device Establishment and the Palm Pistol as a medical device. However, the FDA cancelled the registration--likely because of political pressure, Carmel said. He said he is exploring a possible appeal of the FDA's decision.

"Who is suffering? The seniors and disabled," Carmel said. "The seniors and disabled suffer disproportionately being victims of crime precisely because they are weak and vulnerable."

The tiny weapon fits in the palm of the hand, with a barrel protruding between the fingers. Shooters use their thumbs instead of their index fingers to fire it. It is ideal for those with limited strength or manual dexterity, according to the Web site, www.palmpistol.com. Carmel, a National Rifle Association instructor, said he created the weapon because he noticed that seniors and the disabled had trouble firing traditional firearms. The Bureau of Alcohol, Tobacco, Firearms and Explosives classifies the Palm Pistol as a standard pistol, Carmel said.