September 05, 2017
Fall Online Expo just weeks away — register now for free CEs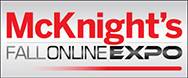 McKnight's Fall Online Expo is Sept. 10
McKnight's fifth annual Fall Online Expo is back in just over two weeks, allowing long-term care providers the chance to earn three free continuing education credits.
The day includes three educational sessions, beginning at 11 a.m. ET with payment expert Leah Klusch highlighting MDS changes. Sessions on residents' rights and the role of technology in the recent mega-rule will follow at 1 p.m. ET and 2:30 p.m. ET, respectively.
Attendees will be able to earn one free CE credit for each session.
Providers will also have access to the virtual exhibition hall, where vendors will be showcasing the latest in long-term care products and services.
Click here to register now for the Online Expo, or visit here to find out more about the speakers and their sessions.