April 08, 2018
Fall detection technologies rarely tested on the elderly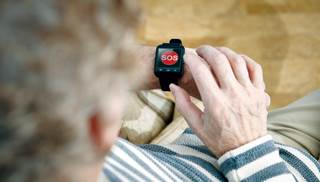 Fall detection technologies rarely tested on the elderly.
Those wearable pendants and sensors that promise to alert caregivers if a senior is about to, or has just experienced, a fall may not be as effective as they claim, according to a review of nearly 120 studies worldwide on fall-prevention technology.
Canadian researchers found that the majority of studies testing the technologies are conducted using young, healthy students or mannequins in a lab, rather than with actual older adults in real-life environments. Nine in 10 didn't consult professional or family caregivers.
"There seems to be a knowledge gap between fall detection technology and the use of it," said Lili Liu, Ph.D., a professor in the faculty of Rehabilitation Medicine at the University of Alberta and a co-author of the study, published in the March issue of the International Journal of Medical Informatics.
The review included studies on 10 different types of monitoring technologies, including wearable devices and ambient technologies such as vision, floor or bed sensors, and found gaps in feedback from real users. Only three of the 118 studies included in the review explored user acceptance and none focused on their preferences, Liu said.
"None of the studies addressed the fact that, just because you have a piece of technology that works, doesn't mean it works for the older adult," Liu said. "Often, when older adults fall, they don't use their devices to communicate with a caregiver for fear of bothering them."