August 01, 2009
Facilities cannot require residents to give gifts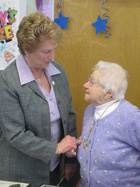 Connecticut Governor Jodi Rell (R)

Gov. Jodi Rell signed a bill prohibiting providers from requiring "donations" or gifts from Medicaid residents as a condition of admission, or lengthening a stay.

The law, which goes into effect Oct. 1, also makes it illegal for providers to require money or other things of value from prospective residents' family members or friends, the governor's office emphasized. Each violation carries a fine of up to $1,000.

Senate Bill 455, "An Act Concerning the Nursing Home Bill of Rights," also allows residents to sue or take other legal action if personal items are lost or stolen. They also may collect attorneys' fees if legal action ensues.

"This bill provides greater protection for nursing home residents and their families, especially when they are faced with making life-changing decisions during times of great stress and uncertainty," Rell said.