June 05, 2015
Extending Sulpician reverence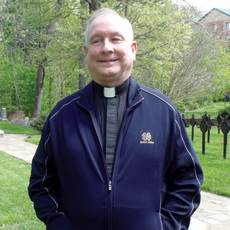 Extending Sulpician reverence
The Rev. Leo Larrivee lends a special touch to life around his Charlestown continuing care retirement community in Catonsville, MD. Every morning, he adds to the spirituality of the Erickson Living community by visiting the Sulpician cemetery there.
This is where more than 200 priests who once taught at seminaries around the United States are buried, beneath rows of metal crosses nestled among majestic trees. The cemetery sits on one acre, near the Our Lady of the Angels Chapel at Charlestown, where Larrivee is pastor. Many of the interred priests taught Larrivee at St. Charles College Seminary before he graduated in 1973.
"I feel a great sense of gratitude for what these people did, educating thousands of priests over the years," the CCRC resident says. Plaques by each grave note names, places and dates of birth and death.
Sulpicians are the only Roman Catholic diocesan priests in the world with the sole responsibility of educating, guiding and supporting fellow priests. The Society of Saint Sulpice was founded in France in 1641 to become an education and morale booster during priestly preparation.
"There is a lot of service here by a relatively small handful of people," Larrivee notes. He estimates there are just 60 Sulpician priests left in the United States.
With his daily walks each morning among the hallowed resting ground for so many, he continues to enrich their educational extension.