January 09, 2009
Erickson to cut more than 250 jobs as a result of market upheaval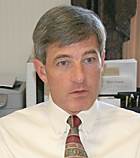 Erickson CEO Rick Grindrod

Erickson Retirement Communities, a major developer of continuing care retirement communities, will eliminate more than 250 full- and part-time positions in reaction to turmoil in the financial markets, the company said Thursday.

"Like many leading organizations, we have witnessed and successfully managed to the ups and downs in the real estate development industry over the years," newly appointed CEO Rick Grindrod said in a statement. "However, what has occurred in the past 4 months is admittedly unprecedented."

Total jobs lost will comprise roughly 2% of the 13,000 positions within the privately held company, Mel Tansill, a company spokesman, said. Cutbacks will occur primarily in the company's IT, HR, finance and marketing departments.

Grindrod said that "only a small portion of these reductions are within the 20 communities we operate across 11 states and none of the eliminated positions are direct resident care and service positions."