May 01, 2008
En route to recovery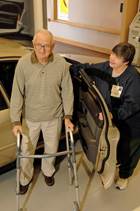 En route to recovery
Sometimes the road to recovery can be long and difficult. But if you happen to be taking Rehab Road, the crown jewel of a recently finished renovation project at
Montefiore Care Center
, OH, it can be a breeze.
The project, called "Montefiore Builds for Tomorrow," also includes the addition of 32 resident rooms, an expanded post-hospital care center and numerous aesthetic enhancements throughout the building.
Located inside the 6,000-square-foot Mandel Rehabilitation Pavilion, Rehab Road features a controlled rehabilitative environment designed to help bridge the gap between rehab and reality. Patients have access to an ATM, bank, restaurant, grocery store, movie theatre, full-sized car and a putting green to help relearn activities of daily living. There also are mailboxes, steps, a turnstile, curbs, ramps and a checkout line to help seniors practice getting around with less assistance from family and friends. 
"Rehab Road allows us to focus on ADL therapy in a setting that is upbeat and inviting, and specifically designed to prepare patients for community reintegration, return to their homes or simply for greater independence," noted the facility's director of rehabilitative services at the time.
One of the things that makes Rehab Road such a cheerful and optimistic place for therapy are the colorful murals that accent most of the walls inside.
Darlene Angelotta is the local artist and medical illustrator responsible for the art one sees along Rehab Road. 
"The staff here are very attuned to patient sensitivities," she said. "In our planning meetings, they steered us toward images that would encourage nostalgia and reminiscing." 
Angelotta used inspiration from nearby businesses in order to get the feel of her murals just right. For example, she took frequent trips to nearby delis to help enhance the facility's restaurant with just the right imagery, such as pickle jars and corned beef sandwiches.  
The idea for the expansion and renovation came from an extensive strategic planning process that began seven years ago. Board members and a building committee reviewed studies that assessed the Greater Cleveland area's need for rehabilitation, medical services and senior care. After careful review and consideration, Montefiore leaders decided to proceed with the expansion in order to broaden their continuum of care. 
With a $10 million price tag, getting the funding for a project of this magnitude was no easy feat, but by building positive relationships with investors and inspiring benefactors to support the venture, the board of directors managed to raise the needed money. 
"Montefiore performs extremely well and has such good credit that we were able to obtain financing on our own, which is very unusual for a nonprofit," said Dennis Roth, a healthcare lawyer and financier with Roth Bierman LLP, which serves Montefiore.
Financial support for the expansion also came from grant funding, bond financing and the Jewish Community Federation of Cleveland's Centennial Initiative, which in itself provided the funding for 18 new resident rooms in the post-hospital care center. 
A year after completion, some of the names have changed, but Rehab Road remains a jewel.
"I'm proud to say that over 1,500 seniors have successfully progressed through Rehab Road and have used it as their first step toward reintegration into the community," said Matt Andryscik, Montefiore's director of rehabilitation services. "Rehab Road gives our residents the confidence to return to a healthier, more active lifestyle." 
_____
1 - Including murals and other art in therapy environments can help stimulate memory and put the patient at ease
2 - Before expanding your care center, make sure you know the community's needs
3 - A therapy environment based on real-life activities will help patients readjust to an everyday routine sooner