March 06, 2018
Design: Warm design a 'Key' feature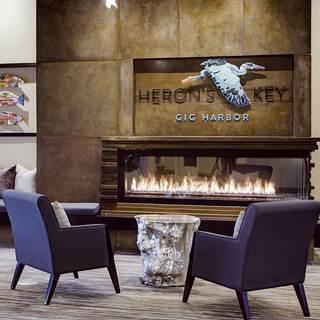 Natural wood tones, grays and concrete help Heron's Key interiors mesh well with local citizens' pro-environmental views.
Skilled nursing with a 'boutique' design style? A new continuing care retirement community believes this approach is long overdue.
Skilled nursing is starting to get the respect it deserves when it comes to design. If Heron's Key, which opened in November 2017, serves as a blueprint for the future, expect to see more SNFs emphasizing stylish-meets-functional décor for new construction and renovation projects.
The $145 million CCRC in Gig Harbor, WA, is hoping to blaze new trails in SNF design, offering what Jessica Willms of studioSIX5 calls "hospitality touches that are typically lacking in long- term care facilities." Heron's Key, she says, adheres to the strict codes and regulations for skilled nursing, while creating a "boutique-designed environment that is far from the stereotypical institutional feel."
Because SNFs are built for high-acuity residents, design principles historically have focused on a stark, utilitarian look rather than creating warm, comfortable surroundings.
By contrast, Heron's Key has combined the functional and aesthetic qualities that bring a "boutique" feel to the interior design. It has a maritime theme that pays tribute to the seaside landscape in the Paci c Northwest. Along with accents of grays, concrete and natural wood tones, the sustainable materials used are intended to jibe with the strong pro-environmental views of the local population.
Four years in the making, Heron's Key occupies 19 acres and features 194 independent living apartments, 45 assisted living units and 45 skilled nursing rooms.
The design consistency across the CCRC spectrum instills the image that all residents are part of the same community, upholding their dignity and removing the dread of being moved to a higher acuity level of care, says Johnathan Ashley, executive director of the community's health center.
"One of the biggest things the design has done is that it maximized our ability to blend a home-like environment in the clinical setting," Ashley says. "We are breaking down barriers so that residents of all sections can socialize together."
Form-meets-function is at the core of the design scheme. For example, solution-dyed carpet tiles made from recycled sh nets run throughout the community, providing what Willms calls "a much warmer and more inviting aesthetic that blends with the design elements throughout the whole CCRC." Staff can clean these carpets with bleach solution or hot water extraction, and because of the way the carpet is fabricated, she says it maintains antimicrobial properties that prevent mold growth. Moreover, Willms says the density of these carpet tiles is ideal for wheel- chairs and walkers.
Three "urban" kitchens not only serve as dining areas for chef-pre- pared food, but also as congregation places and activity rooms for residents who want to learn more about the art of fine cuisine.
LESSONS LEARNED
Continuity in design across all care segments in a CCRC helps alleviate residents' fears of the day they will have to go through the double doors into "that part of the community."

Aesthetics and utility can be found in products such as solution-dyed carpet tiles that o er a warm ambience while providing dense durability for wheelchairs and walkers.

Interactive kitchens can become congregation and socialization spots while giving residents a chance to learn about the dynamics of high-end cooking as a recreational activity.