May 04, 2016
Design Decisions: This, Bud, is for you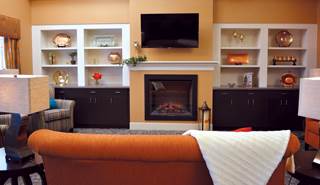 Brittany Manor's new Bud Skutt Rehabilitation Wing is named after the facility's maintenance director, who has worked there for more than 40 years.
The $4.2 million Bud Skutt Rehabilitation Wing at the Brittany Manor Skilled Nursing Facility in Midland, MI, points to the organization's future while paying tribute to an important part of its past.
The new rehab wing opened in January as an addition to Brittany Manor, which was built in 1963. It features a contemporary design scheme, vaulted ceilings, large windows for ample natural light, private rooms and state-of-the-art equipment to give post-surgical residents a "boutique hotel" experience.
At the same time, it is named after Maintenance Director Bud Skutt, who has worked at Brittany Manor for more than 40 years and still punches in.
Along with being a loyal employee over the decades, Skutt was instrumental in evacuating the facility during a fire a few years ago, notes Dan Echler, regional director of operations for owner Ciena Healthcare.
"He's a quiet guy who goes about his business, but when the chips are down, we know who to count on," Echler says. "He made sure everyone was safe and no one got injured."
The 24,000-square-foot addition that bears Skutt's name includes 24 private deluxe suites, two bariatric private suites and four semi-private suites, for a total of 34 beds.
The spacious rehab room contains both physical and occupational therapy areas and large windows offer scenic views of the rolling 10-acre landscape that surrounds the community.
It also includes an ample lobby, lounge area and open dining space, a library with fireplace, courtyard with walkways and seating areas around lush landscaping. The rehab wing features a 100% sprinkler system and an emergency power generator for the safety and security of staff and residents.
Project architect Brian Jilbert of NSA Architects says the goal was to create an environment that would appeal to an upscale audience assigned to skilled nursing for post-surgical rehab. Rooms include Wi-Fi, flat screen TVs, phones and private bathrooms.
"During their stay, we want them to feel that they are at a five-star hotel instead of a nursing home," he says.
Echler, who oversaw the project "from the first shovel of dirt to the ribbon cutting," says it took a few months longer than anticipated to complete because of a harsh Michigan winter when construction began in February 2014 and various logistics complications.
"The cold and snow definitely delayed some things and coordinating all the moving parts took a little longer than expected, but all in all, the disruption was minimal to the residents," he says.
And the payoff has been felt many times over already.
Brittany Manor offers 24-hour skilled nursing care, wound care, dietary counseling, pain management and dental, as well as vision, podiatry and psychiatry services.
And now rehab is better than ever, too.