June 05, 2015
Design Decisions: Ready for therapy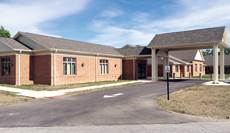 Ready for therapy
Otterbein St. Mary's new $1.5 million Designated Therapy Wing sprang up from pure determination — to elevate service and care levels, to increase marketability and to further its ministry mission of serving the small western Ohio town where it is located.
Now that it's being put to use, the newly renovated wing fits the bill on all counts.
"We are so excited to serve individuals in this new capacity," says Stacy Klosterman, healthcare lifestyle counselor for Otterbein St. Mary's. "Our lifestyle community is proud to offer this expanded line and variety of services."
Part of the design includes a new 1,900-square-foot therapy gym, along with a 900-square-foot secondary therapy area, both strategically located within the community, Klosterman says.
The new, larger gym is adjacent the therapy wing for easy outpatient and resident access. The rehab center offers a wide range of therapies, including physical, occupational and speech, as well as aquatic modalities.
Intent on adding rehab therapy and challenged by confined space, the Otterbein ministry began planning the renovation project in 2013. The goal: to provide a new level of service and care for the continuum, including independent living, assisted living, memory care and skilled nursing, as well as accommodating discharged post-surgical, neurological and cardiac patients. The new wing would feature private suites, two rehab areas and a kitchen and bath set-up to train patients how to use those facilities when they return home.
The planning phase took about six months before being submitted to local and home-office boards of directors for final approval for the concepts and funding. The project ended up being tightened by almost two months, says Zach Kessie, architect with Michael Kinder & Sons.
The main challenge was making not one, but three additions to the existing St. Mary's campus. All three included unique challenges such as utility connections, security, and employee and resident safety, Kessie says.
Another big challenge for the construction crew was minimizing disruption to residents, Klosterman says.
"With the steadfast dedication and support from our partners in caring, the residents and to their families, the project was completed without major incidents," she says. Klosterman added another hurdle was determining the actual size of the new venues related to their function — something completed with few problems.
The therapy wing offers 24-hour designated staffing, 12 post-acute suites, enhanced therapy offerings, physician services and a versatile list of clinical capabilities to meet a broad spectrum of needs, Klosterman says.
"As we age, the longer it can take to recover from illness, a fall or even surgery," notes Beth Newbauer, director of healthcare services for Otterbein St. Mary's.
The post-acute area will help individuals recover from orthopedic injuries, total joint replacements, cardiac and stroke recovery and oncology care.