March 05, 2017
Design Decisions: Manchester Commons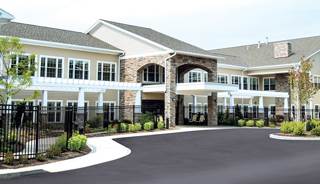 The four-stage project brought a neighborhood model and design flexibility to the 60-year-old Manchester Commons.
After nearly five years, the Master Plan at Manchester Commons in Erie, PA, has finally reached fruition and the finished result is a transformed environment designed to provide seniors with dignity, comfort and fulfillment, project team members say.
Culminating the four-stage, $20 million renovation was the opening of personal care dining and common areas in 2016. The three other stages included:
• A 64-bed skilled nursing community comprising four neighborhoods of 16 accommodations each to replace an existing wagon-wheel model. It was completed in March 2013.
• A 14-bed short-term rehabilitation neighborhood with private rooms and baths, along with an expanded therapy area, fitness center, staff training room and beauty shop, which was finished in June 2014.
• A 20-room dementia neighborhood for personal care with an administrative suite, lobby and common areas. It opened in November 2015.
Manchester senior director Roberta Gray says the breadth and scope of the physical design work created a living space that has had a positive outcome for residents.
"The neighborhood model immediately reduced noise and confusion and had a calming effect," Gray says. "Residents love having their own private spaces and the roommate issues are eliminated. It also removed the long walks to dine, the prominent nurses' station and the country kitchen has become the place for family gathering and visiting. No more congregating at the nurses' station or lining up for meals."
Melissa Pritchard, an architect with SFCS, calls the Manchester Commons project "one of the highlights of my career" due to the various elements of renovation.
"This is not just a new building, but a building that honors its residents first," she says. "This is a 60-year-old nursing home that is mostly skilled nursing, but they had the flexibility to follow their vision of larger rooms and better infrastructure. Now this building can flex to span the entire spectrum of senior living."
Manchester Commons stripped away every institutional detail and reshaped the community into a home-like environment. So the long hallways are gone, every neighborhood has its own dining area, overt clinical spaces are discreet and common areas are like residential living rooms. Art features local themes of Lake Erie.
"It is a space that feels like it is designed for resident comfort and not the convenience for staff," Gray says. "Staff's back entrances to neighborhoods eliminate bringing food and linen carts through the front door. Linens, oxygen, lifts and other equipment are housed in attractive cabinets that are part of the millwork."
Ultimately, the success of the renovation design stems from a successful collaboration between the provider team and architects.
"Those who visit say it's like we thought of everything," she says.