September 04, 2015
Design Decisions: Letter-perfect renovation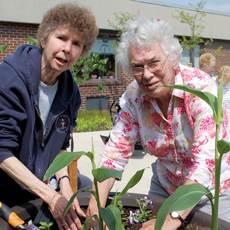 Renovations at St. Andew's Village include courtyard gardens
Presbyterian Senior Living looked to the alphabet — specifically the letter C — when putting together its $10 million St. Andrew's Village continuing care retirement community project.
With "four C's" as the guide, the Indiana, PA, community design adheres to the tenets of campus, culture, care and customer service, says Executive Director Brian Parks.
"We knew we could create a beautiful building that everyone would admire, but we wanted to go beyond looks and into a establishing a new model of senior living that provides everything for our residents," he says. "We created a place where people really want to live."
Presbyterian Senior Living began in 1927 as a nonprofit healthcare provider. Over the years, it has grown to include campuses in Pennsylvania, Maryland, Delaware and Ohio. About half of its 30 properties are CCRCs. As a CCRC, St. Andrew's Village provides for residents across the long-term care continuum, offering 131 beds in its healthcare center, 42 licensed beds in personal care, 30 independent living apartments and 17 market rate apartments.
The St. Andrew's Village project is a transformation of a nursing home facility built in 1982. It has added a new community living and learning center, along with two courtyard gardens featuring rehab and therapy components. The newest amenities support the shift to a resident-centered care model.
"We've taken a very holistic approach to our renovation project and I am very excited for the completion of this phase because of the really amazing physical changes it has brought," Parks says. "These additions provide enhanced value and enrichment to our community on social, physical, spiritual and intellectual levels."
Living and Learning
The Living and Learning Center, which opened in April, is the centerpiece of the project. The structure holds up to 110 people, boasts state-of-the-art audio/visual equipment and technology integration and serves as a multifunctional gathering place for community events. The center offers residents and community members lifelong learning and socialization opportunities.
More than 14,000 square feet of outdoor gardens has been integrated into two courtyards located on each end of the healthcare center. The areas have raised gardens, lush greenery, dining tables, benches, bird feeders and therapy features designed for active life.
The Living and Learning Center and garden courtyards were built to support the community's Masterpiece Living program. The goal of the program is to enact change within the community, aiming to challenge and motivate residents to discover new hobbies, set and achieve new goals and ultimately lead healthier, more fulfilling lifestyles.
St. Andrew's Village is currently undergoing the final phases of its transformation, which involve a new 30-bed Crosslands long-term care neighborhood and core support center. Completion — yet another "C" — is expected in November.