December 04, 2015
Design Decisions: E-lated with the new look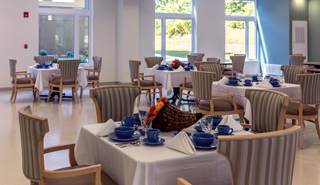 Ample amounts of natural light and bright colors enliven the Venetian Care & Rehabilitation Center. Each floor also has multiple kitchen units, in addition to the building's formal dining areas.
Designer Jaymee Scaduto was hoping to make Windsor Healthcare's newest building a popular topic of discussion. Mission accomplished. Or perhaps "E-ccomplished."
The Venetian Care & Rehabilitation Center in South Amboy, NJ, is laid out like a capital 'E.' The long line is where each of three living rooms are — one for each neighborhood on a floor. The shorter lines are primarily where resident rooms are.
A huge pink wall clock in the lobby lets visitors know right away they're in for something "different, fun and unexpected," Scaduto says.
"From an operational standpoint, we didn't want that regular nursing-home-hallway look, where you have long hallways and machines or Hoyer lifts everywhere," explains Batsheva Katz, Windsor's vice president of operations. "So we built closets for all the necessary equipment right on the floor. It's all there at your fingertips, even with plugs in them so they can be charged if necessary."
Also, medicine cabinets were built into resident rooms to eliminate the need for medicine carts, Katz adds.
"So there's really almost nothing in the hallways except when housekeeping is cleaning. But they don't always stay there," she says. Besides, housekeeping and some other departments were moved from less conspicuous, general areas on the first floor to be nearer to resident rooms. ("It works better for them, and us, being in the thick of things," Katz explains.)
The Venetian is a replacement building for Windsor's former Briarwood Care & Rehabilitation Center, which was about five miles and at least six decades in design away. The 180-bed Venetian opened in March and can hold 60 post-acute residents on one floor and 120 long-term care residents on the other two.
Each of the three floors has three 20-resident neighborhoods — one in each prong of the "E." Every floor also has two kitchen units, for customized preparation.
"The floors always smell so good because there's food cooking," Katz says with a smile. "If you are a late riser and want breakfast at 11, we can accommodate that."
It's all part of Windsor's commitment to the culture change movement. Each neighborhood — besides having a tree- , animal- or flower-themed name — also has its own colors to ease navigation.
There are also large "spa" areas on each floor, with cabinets for personalized bathing supplies, so that residents don't have to get undressed in far away rooms. All the better to promote Windsor's core values of "honor, dignity and respect," Katz explains.
The visual palette is perhaps designer Scaduto's favorite aspect.
"I love the colors," she says. "They're bright and fun — not colors that a lot of nursing homes use. Magentas, teals, bright yellows."
Resident rooms also have dramatic 6-foot-tall windows, and the building interior is almost always bathed in natural light due to the axis it is built on, Katz explains.
The two-year, $25 million project features an award-winning rehab park, central garden court and neighbors that include a YMCA on one side and tennis-and-swim club on another.