April 04, 2016
Design Decisions: Beyond bricks and mortar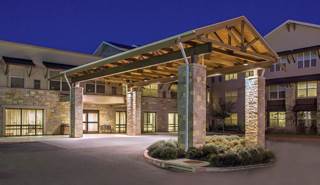 The $41 million renovation reflected EdenHill Communities' identity change. The 84,000-square-foot renovation took more than three years to complete.
In 2010, EdenHill, a skilled nursing and senior living community in New Braunfels, TX, faced a situation that is common for facilities across the U.S.: an aging building with an obsolete design and infrastructure. As with so many built in the 1950s and 1960s, the time had come for a radical redesign.
But the $41 million renovation project went well beyond bricks and mortar — it consisted of a complete identity change. Known as Eden Home since it was built in 1956, the organization became EdenHill Communities and in the process renovated its old buildings and expanded its campus to offer more contemporary living and care settings.
"Communities have to evolve in order to survive," says Dean Maddalena, president of studioSIX5, which collaborated with firm three: living architecture on interior design.
EdenHill was emblematic of archaic properties that dot the American landscape — with low ceilings, outdated heating and cooling systems, small windows and cramped floor plans, says Rocky Berg, principal for the senior living practice at three: living architecture. The firm specializes in refurbishing outdated buildings.
The multi-phase, 84,000-square-foot renovation took place over three-plus years. Completed in 2014, EdenHill boasts a 250,000-square-foot campus featuring 60 skilled nursing units, 22 assisted living units, 30 memory care units and 130 independent living residences.
Among the additions are The Pinnacle, a four-story independent living complex at the new entrance and a new three-story assisted living and memory care building named Heritage Garden. Creating the new environment required gutting and renovating the existing assisted living and skilled nursing structures in multi-phased improvement programs.
The original administration building was repurposed into an expansive wellness center and covered pool. The gymnasium features the front half of a Saturn automobile to retrain patients on how to get in and out of a car.
The property overlooks the scenic Comal and Guadalupe rivers, so the designers used a color scheme to embrace the "earthy natural coloration of the surrounding country, balanced by soothing blues and greens."
Large expanses of glass also allow for interiors to be draped with warmth and sunlight.
The strong connection with the local community is evident in the interior design, as references to its German heritage and industrial past are represented in artwork, including a large mural in the café, Maddalena says.
"We looked at the history of New Braunfels and the factories and craftsmen that were there," he says. "We incorporated those historical elements in the interior."