May 04, 2016
Dementia spur: lost body heat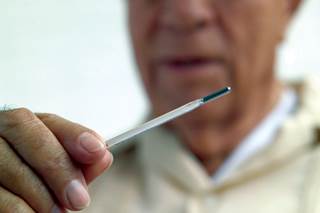 Changes in body thermoregulation can worsen Alzheimer's symptoms.
A drop in body temperature may aggravate Alzheimer's symptoms, according to a new study.
Researchers hypothesize that changes in body thermoregulation "amplify the main manifestations of Alzheimer's," said Frédéric Calon, Ph.D., professor at the Université Laval Faculty of Pharmacy and author of a study published in Neurobiology of Aging.
Exposure to a high ambient temperature mitigated some of the symptoms, research showed.
"Our findings suggest that it is worth exploring the treatment of thermoregulation among seniors suffering from Alzheimer's," Calon said. "It would be a relatively easy therapeutic option."