September 01, 2012
Delivering more than the mail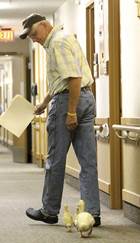 Delivering more than the mail

When Steve Score, 57, retired, he quickly learned "A man can only watch so much 'Oprah.'" Thus, he began working as a volunteer mailman at Ecumen Emmanuel Community, a skilled nursing facility in Detroit Lakes, MN.

It's this role that has had him fielding calls from national news outlets after a local TV station captured him making mail deliveries with three ducks in tow. Dubbed "Peeper and the Pipettes," the three yellow, fluffy, feathered friends follow Score from room to room as he delivers mail to Emmanuel's residents. Score was diagnosed with Alzheimer's when he was 52, which has imbued his work with Ecumen a greater purpose.

Score has raised ducks for two years at his home outside of the mostly rural community of Detroit Lakes. His chocolate Labrador Lily sometimes accompanies him on visits to the community, but it's the reactions residents have to the ducks that has captured so much attention.

"Wherever I go, they go. All I have to do is say, 'Come on, girls, let's go,'" and they will follow,' he says.

Sandy Lia, the community's marketing director, says the residents have caught "duck fever."

Score plans to continue with the ducks, but may add in a pony.

"I like to bring something different for the residents," he says.