October 01, 2012
Delirium is linked to cognitive decline and mortality: study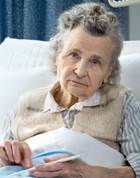 People with dementia are 20% more likely to be rehospitalized, antipsychotic use increases risk, res

Seniors who have experienced episodes of delirium have a significant risk of developing dementia, research suggests.

Delirium, a mental state with acute bouts of confusion and disorientation, affects about 15% of hospitalized seniors. It has long been characterized as a temporary side effect of infection, medications or inpatient procedures. Delirium also is linked to an increased risk for nursing home admission.

"This means that delirium, or the acute causes of delirium, could be a newly discovered cause of dementia. This is important, because although delirium is extremely common, less than a quarter of cases are actually diagnosed in hospitals," lead author Daniel Davis, Ph.D., said.

Investigators from University of Cambridge and the University of Eastern Finland followed a group of 553 people aged 85 and over for 10 years. In the people without pre-existing dementia, bouts of delirium resulted in an eightfold increase in the risk for dementia. Moreover, in participants with existing dementia, delirium worsened their symptoms and increased their risk of mortality.

"Because some delirium is preventable, it is plausible that delirium prevention may lead to dementia prevention. We now urgently need to test if better delirium care can prevent dementia, or prevent further decline in patients who already have dementia," Davis added.

The study was published Aug. 9 in the journal Brain.