March 24, 2010
DAY ONE: Fourth annual McKnight's Online Expo to begin with webcasts on quality, wound care and capital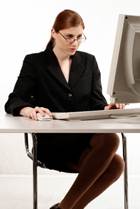 DAY ONE: Fourth annual McKnight's Online Expo to begin with webcasts on quality, wound care and capi

[Editor's Note: The Exhibit Hall, not the Resource Center, is the online location of vendors' booths. The Resource Center offers information about resources available at McKnight's. This change was made in the story below.]

The fourth annual McKnight's Online Expo, the largest online trade show serving the long-term care industry, kicks off today with three educational webcasts. It's not too late to join the more-than 2,300 long-term care professionals from around the country who have already registered for free at www.mcknights.com/marchexpo.

Starting off the webcasts, at 10 a.m. EDT, Margaret Wylde, Ph.D., president and CEO of the ProMatura Group, will discuss quality and resident satisfaction. Then, at 11:30 a.m. EDT, McKnight's columnist Donna Sardina will lead a presentation on providing excellence in wound care. Michael Hargrave, vice president of the NIC Market Area Profiles data and analysis service, will wrap up the day with his 2 p.m. EDT discussion of capital and lending in long-term care. Two more webcasts will take place Thursday.

For the second year, each of McKnight's online seminars is worth one continuing education unit. Simply by attending each online seminar, visitors can earn up to five CEUs. Content from the Online Expo will be available online for up to two months after the event.

Besides five webcasts over two days, an exhibit hall will feature 18 vendor booths. Visitors can click on the booths to learn about products and interact with company representatives. For more information, or to register for free, visit www.mcknights.com/marchexpo.