February 04, 2009
Daschle withdraws nomination for secretary of HHS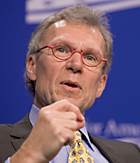 Photo by Ralph Alswang at the Center for American Progress

Tom Daschle, former senate majority leader, withdrew his nomination for secretary of the Department of Health and Human Services on Tuesday amid questions about his failure to pay back taxes and potential conflicts of interest.

Daschle had been tapped not only to oversee the goings on at the department, but also to help craft significant healthcare reforms as a White House health czar. News of his nomination late last year was greeted with praise from many in the long-term care community, including the American Health Care Association and the American Association of Homes and Services for the Aging. Problems of unpaid taxes and recent lobbying efforts created what Daschle considered too much of a distraction from the work required in the position.

Daschle isn't the only Obama nominee that has withdrawn in recent weeks. Also announced Tuesday was the withdrawal of Nancy Killefer's nomination for the newly created job of White House's chief performance officer. Killefer faced insurmountable scrutiny for an 18-month failure to pay employment tax on household help. Gov. Bill Richardson (D-NM), a former pick for Commerce Department secretary, withdrew his nomination after pay-for-play allegations derailed his hopes for confirmation.