December 01, 2008
Curious by nature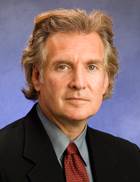 Dr. Neil Kurtz
Dr. Neil Kurtz is used to challenges. In 1982, as a psychiatrist, he was hired by the pharmaceutical company Merck—but worked on everything but psychiatric drugs.

Later, the brain-trained physician became head of the GI (gastrointestinal) task force at the company.
"I sort of know where the GI [tract] is," he recalls mentioning at the time.
Now, after more than 20 years in pharmacology and biotechnology, he is looking at another learning curve: heading Golden Living, one of the largest long-term care companies in the United States.
But Kurtz doesn't see it as much a radical career change as a continuation.
"At the end of the day, I viewed this as providing care for people, and that's what my career has always been about anyway," the 58-year-old native New Yorker explains.
While his background may seem an unlikely fit for his new position, colleagues believe otherwise. His skills as a doctor jibe well with his new role, they say. Also, his understanding of data—his ability to convert outcomes data to relevant information—will become key as the government pushes for transparency.
"We have a lot of data on the nursing side, but Neil will help us better understand that information and how do we use that to better demonstrate the quality-of-care outcomes to patients and residents," said Larry Deans, president of Golden Living Centers.
Notes Evelyn Graham, who worked with Kurtz at TorreyPines Therapeutics, a biopharmaceutical company in La Jolla, CA: "He has an impressive grasp of the details but then can easily translate that into the big picture and the strategy."
Kurtz's status as a long-term care "outsider" actually pleased his new employer, Ron Silva, president and CEO of Fillmore Capital Partners, the private equity group that owns Golden Living.
"He's got the vision," Silva says, referring to a personal worldview of transforming the company and the field into one that provides quality care, without exception. That includes using alternate therapies to medications—strong beliefs held by both Kurtz and Silva.
The two developed a mutual respect for each other recently while Silva was exploring biotechnology investments and met Kurtz, the then-president and CEO of TorreyPines Therapeutics.
Both place a priority on hard work and integrity—and share a particular admiration for older generations. Talk to Kurtz and you may hear about his father, who immigrated to the United States from Poland at the age of 12.
Unable to speak a word of English upon his arrival to the U.S., he went on to build a successful embroidery business. Kurtz himself received a scholarship to attend New York University and played basketball and baseball.
Perhaps because of his ambitious father, Kurtz has a soft spot for underdogs. He speaks with zest about the underestimated Abraham Lincoln, who he had been reading about in Doris Kearns Goodwin's book, Team of Rivals.
"He's a prototype of what we'd want to be and be like," he says.
The well-read Kurtz is also well-rounded with interests that range from opera and ballet, to golf, tennis and skiing—and professional sports.
"You can't beat him in any sports trivia question," comments Deans.
During his spare hours, Kurtz frequently visits his 88-year-old mother, who lives on her own in New Jersey. He relishes time spent with his two children, Jason, 25, and Tara, 23, who reside in New York City. Kurtz and his wife, Susan, also dote on a dog, three cats, a fish, lizard and bird, pets that live in the couple's homes in Washington, D.C., and Manhattan.
Intellectually curious but self-effacing, according to Deans, Kurtz takes time each day to do The New York Times crossword puzzle. (The hunt was on to find the big-city newspaper recently in Golden Living's Fort Smith, AR, headquarters.)
Deans, who has known Kurtz for more than 15 years, tells a story about how Kurtz felt relieved when someone informed him that the puzzle gets progressively harder during the week. Until then, Kurtz couldn't figure out why he felt smart on Monday and less intelligent by Saturday.
Not that a high level of difficulty has ever bothered him before.
_____
Resume
Graduates with B.A. in psychology from New York University, University Heights, NY
Receives medical degree from Medical College of Wisconsin, Milwaukee, WI
Recruited by Merck, Sharp & Dohme as associate director of clinical pharmacology, Rahway, NJ
Takes position as senior vice president of research and development at Knoll Pharmaceutical Co., Lincolnshire, IL
Forms Worldwide Clinical Trials Inc., Kennesaw, GA
Named president and CEO of TorreyPines Therapeutics Inc., La Jolla, CA
Begins tenure as president and CEO of Golden Living, Fort Smith, AR