July 26, 2016
Congressional leaders campaign for tougher nursing home regulations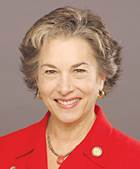 Rep. Jan Schakowsky (D-IL)
More than 30 members of Congress aren't satisfied with proposed regulations for nursing homes and called on the Centers for Medicare & Medicaid Services for harsher final rules.
In a letter to CMS Acting Administrator Andy Slavitt, 32 representatives acknowledged the "positive provisions" of the agency's proposed nursing home regulation overhaul, but said CMS failed to address staffing and quality issues.
Also under fire are pre-dispute arbitration agreements. The agency's proposed language on the issue will "make matters worse (rather than better)," the letter reads. The group of lawmakers urged regulators to prohibit pre-dispute arbitration agreements entirely, echoing an editorial published Monday by the New York Times.
"CMS's proposed rule makes several positive reforms, but we believe there are serious issues left unaddressed," said Rep. Jan Schakowsky (D-IL), lead signer of the letter. "The agency should strengthen its rule to protect seniors and ensure nursing homes are accountable for the quality of care they provide."
The letter said CMS should require facilities to have a registered nurse on staff at all times, mandate staff-resident ratios for direct care nurses and address the "pervasive misuse" of antipsychotic drugs. While the American Health Care Association and LeadingAge have pushed for lowering antipsychotic rates among members, both groups have grappled with staffing levels.
The lawmakers also argued for CMS to allow residents who have been denied readmission to a facility to appeal, in an effort to combat so-called "resident dumping."
CMS' final rule, the largest regulatory overhaul since 1991, "will have a significant and lasting effect on the safety and well-being of millions of current and future nursing home residents," as well as the federal programs programs that pay for nursing care, lawmakers said.
The final version of the new regulations for nursing homes is expected to arrive in September.