July 19, 2010
Congress to hold hearing on racial disparities in nursing home reimbursements rates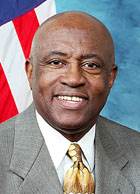 Rep. Ed Towns (D-NY)
A recent Avalere Health study showing that deteriorating Medicaid reimbursement rates has disproportionately affected nursing home care for black residents will be the subject of a congressional hearing Tuesday.
Members of the Congressional Black Caucus, Reps. Danny Davis (D-IL) and Ed Towns (D-NY), will meet with representatives from Avalere Health and from the long-term care community to discuss the new report. As many as 40% of minority nursing home residents live in facilities with large Medicaid populations, according to the report, which was released by the Alliance for Quality Nursing Home Care. Many facilities are facing large cuts with additional Medicaid funding for states stalling in the Senate.
"Besides stressing why it is essential to pass emergency Medicaid relief, it is important to express the urgent need to head off a systemic trend towards a two-tiered system of nursing facilities—whereby the lowest performing facilities provide care to the poorest and most vulnerable populations in rural and inner-city America," said Cliff Porter, Assistant Vice President of Government Affairs at HCR ManorCare, who will be speaking at Tuesday's hearing.