March 30, 2009
CMS to test cash incentives for nursing home quality, efficiency efforts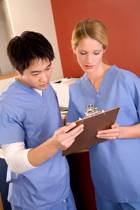 CMS to test cash incentives for nursing home quality, efficiency efforts

The Centers for Medicare & Medicaid Services on Friday announced a new, four-state demonstration project to test whether cash incentives will help improve quality and efficiency in nursing homes.

Points will be awarded to facilities based on nurse staffing levels, avoidable hospitalizations, resident outcomes and citations received during inspections. Performance payments will be granted based on points earned. Officials say that money saved through quality and efficiency improvements will fund the performance payments.

The Nursing Home Value-Based Purchasing demonstration will take place in nursing homes in Arizona, Mississippi, New York and Wisconsin. The demonstration program will run from July 2009 until June 2012. Then, its efficacy will be determined and a decision will be made whether or not to change Medicare policy based on the findings, officials said. Medicare-certified nursing homes in each state will be sent application information.