November 01, 2014
CMS should push Congress on therapy rate upgrades: AHCA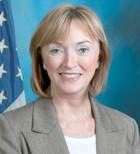 CMS Administrator and Secretary of the Medicare Trustees Marilyn Tavenner
The Centers for Medicare & Medicaid Services should openly urge Congress to change therapy reimbursement, the nation's largest long-term care provider association stated in recent written comments to CMS Administrator Marilyn Tavenner.
The American Health Care Association/National Center for Assisted Living pressed for three particular changes: repealing "arbitrary" Part B therapy caps that limit access to needed services; reforming the "flawed" outpatient therapy medical review process, to create a system more likely to identify improper payments; and the collection of standardized outpatient therapy data, rather than the current non-standardized data that is "administratively complex" and not very useful.
CMS needs Congressional action to repeal the caps and reform medical review. The agency should issue a public statement asking Congress for the three proposed changes, AHCA stated.
The 11-page document also included comments on a number of other topics, including reforms to the Recovery Audit Contractor system. The document served as the association's official comments on the proposed Medicare physician fee schedule for calendar year 2015.
AMDA-The Society for Post-Acute and Long-Term Care Medicine also commented on the fee schedule. The organization of medical directors and nurse practitioners applauded efforts to implement Medicare reimbursement for chronic care services, but it objected to the proposed G code. The reimbursement level is too low and the requirements associated with the G code — including 24/7 access to electronic health records — are too burdensome for many providers, the organization stated.