February 15, 2013
CMS seeks operator input regarding skilled nursing facility therapy payment changes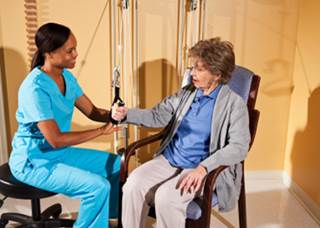 Provider groups protest MedPAC recommendations to reduce therapy caps
The Centers for Medicare & Medicaid Services is encouraging provider input as it seeks to change the payment system for therapy provided by skilled nursing facilities.
Currently, CMS does not consider patient characteristics and special care requirements when setting rates for therapy payments to SNFs. The payments are made on a per-diem basis under Medicare Part A, through the SNF prospective payment system. CMS is working with Acumen, LLC and the Brookings Institution to research ways to improve this system.
Progress reports will be posted online, and the project is expected to last a few years, CMS representatives said in an Open Door Forum conference call on Thursday. Operators can share their ideas via the email address snftherapypayments@cms.hhs.gov. The period for provider input will end in autumn of 2013, at the latest.
Also on Thursday's call, CMS provided clarification regarding MDS coding for long-term care residents with functional quadriplegia. Section I8000, not I5100, is the appropriate place to code functional quadriplegia caused by conditions such as dementia, pressure ulcers and cerebral palsy, according to CMS officials.