March 09, 2018
CMS: Schedule up in the air for new RCS-1 therapy classification system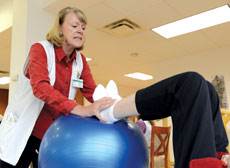 Replacement for therapy payment system still unconfirmed
A replacement payment system pitched by the Centers for Medicare & Medicaid last spring is no closer to being finalized or implemented, officials said during an Open Door Forum conference call Thursday.
The Resident Classification System, or RCS-1, was largely viewed as replacement for the RUG system when it was outlined in a notice of proposed rulemaking last May. But John Kane, the skilled nursing team lead for CMS, said the agency hasn't moved beyond reviewing and analyzing comments and has yet to establish a timeline for potential adoption.
He said his office had received "a significant number" of comments about RCS-1, followed by nearly as many questions about when it would be implemented. Many observers had projected the changeover could happen in time for fiscal 2019, or by Oct. 1 this year.
"CMS has not proposed or finalized any policy for assessment with RCS-1," Kane told listeners Thursday. "We hope this alleviates any confusion or concern."
Kris Mastrangelo, president & CEO of Harmony Healthcare International, has blogged frequently about the idea of a resident classification system.
She said many questions remain about "the integrity and applicability of the data" that would be used to establish four categories for patients receiving occupational therapy and/or physical therapy, speech therapy, nursing and non-ancillary support.
"Nationally, 90 percent of Medicare Part A patients receive therapy," Mastrangelo said. "In 2012, with the advent of the RUGs IV, analysts incorrectly projected a drop to 82 percent. This did not occur. Is this same expectation recurring?"
Kane said such questions have been "monumentally helpful" to analysts.
But in response to a question on how RCS-1 might work with — or be superseded by — a shift to a unified post-acute payment plan, Kane acknowledged that idea had slowed the rulemaking process.
Kane said his office is trying to figure how to integrate RCS-1 "with the direction the agency has been moving."
He also assured call participants that any payment overhaul would take into account the time all stakeholders — from care providers to software designers — need to prepare.