July 01, 2011
CMS rule stops Medicaid pay for preventable conditions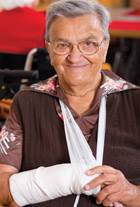 CMS rule stops Medicaid pay for preventable conditions

The Centers for Medicare & Medicaid Services has issued a final rule that will deny Medicaid payments to providers that deliver services regarding preventable healthcare-acquired illnesses or injuries.

Modeled after successful policies in effect for hospitals, the rule was issued June 1 to lower states' Medicaid costs, officials said. States will be allowed to expand the list of preventable conditions and identify which healthcare settings Medicaid may or may not deny payment, they added.

Preventable conditions include falls and trauma, blood incompatibility, catheter-associated urinary tract infections, severe pressure ulcers, poor glycemic control and others.

"These steps will encourage health professionals and hospitals to reduce preventable infections and eliminate serious medical errors. As we reduce the frequency of these conditions, we will improve care for patients and bring down costs at the same time," said CMS Administrator Donald M. Berwick, M.D.

The final rule became effective July 1 but it gives states the option to implement it between that date and July 1, 2012.

Long-term care and rehab providers very likely will be working with individuals who have been exposed to some of the conditions after surgery or an acute-care hospital stay.

The conditions include: Stage III and IV pressure ulcers; falls and trauma; fractures; dislocations; catheter-associated urinary tract infections; numerous diabetes-related conditions; surgical site infections; orthopedic procedures; and deep vein thrombosis (DVT)/pulmonary embolism (PE) following total knee replacement or hip replacement.