May 02, 2008
CMS proposes cutting Medicare payments to nursing homes by $770 million next year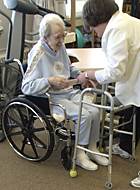 MedPAC recommends reforming Medicare payment system for skilled nursing facilities

The government issued a proposed rule Thursday that would cut Medicare payments to nursing homes by $770 million, or 3.3%, for fiscal year 2009, to account for a forecasting error.

The Centers for Medicare & Medicaid Services, which issued the rule, said that the decrease would partially be offset by a proposed skilled nursing facility market-basket update of 3.1% for FY 2009. This update would result in an increase of $710 million in payments. But the net loss from both actions would be $60 million, or 0.3%.

"This is a reduction in Medicare funding however you look at it and any reduction is not in the best interest of patients or caregivers or jobs," Susan Feeney, spokeswoman for the American Health Care Association, told McKnight's. "We're obviously very concerned with any cuts to Medicare skilled nursing facility funding."

CMS issued the proposed rule to account for a 2005 forecasting error in the Resource Utilization Group (RUG) payment system. More people than expected received certain types of rehabilitation services.

Earlier Thursday, AHCA and the Alliance for Quality Nursing Home Care issued results of a Lewin Group report that underestimated the impact of the regulation. It found that the regulatory cut would total $720 million next year - $50 million below what CMS has projected. Feeney said the report was based on numbers issued by the Bush administration earlier this year.