June 22, 2009
CMS nursing home guidance focuses on resident quality of life, environment and choice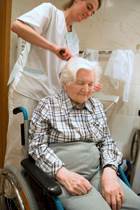 OIG: Nearly all nursing homes violated federal standards in 2007

The Centers for Medicare & Medicaid Services on Friday issued new guidance for nursing home surveyors emphasizing the importance of resident quality of life and homelike environments.

Nursing home surveys conducted after June 12 will include a heightened focus on areas such as care and service choices, creating a homelike environment, resident dignity and accommodating environmental needs and preferences, according to CMS. This new guidance is intended to support current efforts to create more homelike nursing facilities and focus on resident-centered care, CMS Acting Administrator Charlene Frizzera said.

CMS also seeks to deinstitutionalize nursing homes through the removal of certain technology and mechanisms associated with institutional environments. Overhead paging systems, alarms and large nursing stations, as well as meals served on institutional trays should be eliminated, according to the guidance. Facilities should also pay close attention to a resident's preference for his or her own daily schedule, CMS says.

More information about the new guidance can be found online at http://www.cms.hhs.gov/transmittals/downloads/R48SOMA.pdf.