August 25, 2008
CMS: MDS 2.0 versus MDS 3.0 Comparison Crosswalk draft available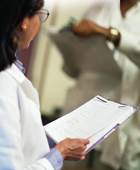 Medicaid audits the focus of new website

The Centers for Medicare & Medicaid Services has released a draft "comparison crosswalk" to aid in the transition between MDS 2.0 and MDS 3.0.

According to a CMS release, the draft crosswalk does not contain the final list of items contained in the MDS 3.0. That final list will be available on March 30, 2009, according to the agency. The purpose of the crosswalk is to introduce the new MDS 3.0 item-numbering scheme, identify the key differences between MDS 2.0 and MDS 3.0 items and identify applications that utilize specific MDS 2.0 items.

The MDS (Minimum Data Set) is a set of data used for clinical assessment of Medicare and Medicaid residents at long-term care facilities. A history of the MDS 3.0 revisions, a timeline for its implementation and the draft crosswalk are available at http://www.cms.hhs.gov/NursingHomeQualityInits/25_NHQIMDS30.asp.