January 04, 2016
CMS launches infection control pilot program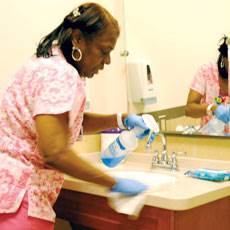 The pilot program will target infection control in nursing homes during FY 2016
A new pilot program launched by the Centers for Medicare & Medicaid Services will put more scrutiny on infection control in nursing homes starting in fiscal year 2016.
The three-year infection control pilot program aims to improve infection control and prevention assessments for nursing homes, hospitals and care transitions between the two. Using funding from the Centers for Disease Control and Prevention, the program will begin with 10 pilot surveys conducted in nursing homes in FY 2016. Surveys in FY 2017 and FY 2018 will be performed in both nursing homes and hospitals.
The program was spurred in part by the recent U.S. experiences dealing with the Ebola outbreak, the agency said in a December 23 memo to surveyors. The surveys will be conducted by a national contractor, and will give healthcare facilities guidance on improving prevention for urinary tract infections, diarrheal diseases such as C. diff and other infections commonly found in nursing homes.
"We believe that these educational surveys will help the nursing homes become more prepared and help CMS and the CDC develop training materials for both nursing homes and surveyors," the memo reads.
While no citations will be issued as part of the program, referrals will be made to the CMS Regional Office if any Immediate Jeopardy deficiencies are found, according to the memo.