October 17, 2012
CMS is two weeks late issuing report on fraud prevention efforts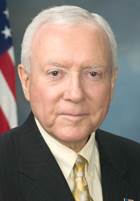 Sen. Orrin Hatch (R-UT)
Two Republican Senators want to know why the Centers for Medicare & Medicaid Services is two weeks overdue in issuing a report on the agency's fraud prevention system (FPS).
In a letter to Acting CMS Administrator Marilyn Tavenner, Sens. Tom Coburn (R-OK) and Orrin Hatch (R-UT) said they are particularly concerned about the agency's automated provider screening system that uses predictive modeling and data analytics to review Medicare fee-for-service claims.
An Affordable Care Act provision requires CMS to review the system — which was implemented in Dec. 2011 — and submit a report to Congress by Oct. 1. Members of Congress have questioned the FPS before, despite the success of strike force operations. Long-term care providers increasingly are being targeted by fraud prevention auditors. A recent American Hospital Association report found that CMS audit contractor requests for records jumped 22% from the first quarter of the year to the second quarter.
"We had initially requested very detailed and specific information answering a number of questions regarding the metrics and costs of FPS and other related initiatives," the Senators' letter states. "Instead of a comprehensive response, we received a generic reply that was not truly responsive to our specific questions."
Hatch and Coburn requested that CMS publicize the report and respond to their concerns within three business days.

Click here to read the letter.