June 02, 2009
CMS discloses next steps in durable medical equipment bidding process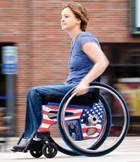 The Flight Ultralight Wheelchair weighs just 18 pounds with wheels.

The Centers for Medicare & Medicaid Services has unveiled a timeline for the "Round One Rebid" of the Medicare Competitive Bidding Program for durable medical equipment, prosthetics, orthotics and supplies (DMEPOS).

Registration for DMEPOS bidders will begin this summer, and the "bid window" will open this fall, according to a CMS release. CMS has made some adjustments to the bidding process following the program's shaky start in July of 2008. Such improvements include an upgraded on-line bid submission system, early bidder education, and increased oversight of bidders that are new to product categories or competitive bidding areas. There will be no immediate effect on Medicare beneficiaries, according to CMS.

The bidding process was originally slated to take effect July 1, 2008, but was delayed due to logistical concerns. An effort was made to revive the program in January of this year, but lingering concerns from industry officials and legislators forced another delay. The final rule for the competitive bidding process went into effect on April 18. Long-term care and other providers generally oppose the competitive bidding process because there is a real possibility larger equipment providers will have an unfair advantage over smaller companies. (McKnight's, 4/22)

More information on the CMS plan is available at:
http://www.cms.hhs.gov/DMEPOSCompetitiveBid/01_overview.asp#TopOfPage.